Young Professionals' Seminar Series
The Rotary Club of Monash has a network of professionals inside and outside the Club offering their expertise to help give the young professionals in our community gain an advantage, greater understanding and be more prepared in their professional and personal life through a series of informative seminars.
They provide an affordable avenue for young professionals to network and increase their knowledge with ample opportunity to discuss and explore the topics with the guest presenters and other attendees. There are a limited number of spots available for each session to help maximise the attendees opportunity to ask questions and speak one to one with the presenters.
These seminars are either conducted at the Monash Enterprise Centre in a seminar or workshop format or alternatively at Zest Restaurant, Waverley Holmesglen Tafe in a dinner format. Light refreshments are provided at all Seminars held at the Monash Enterprise Centre.
Prices:
$30 for Seminars held at the Monash Enterprise Centre (includes light refreshments and beverages)
$40 - $45 for dinners held at the Zest Restaurant (includes three course meal and sides)
Please find below our schedule of Seminars for 2018: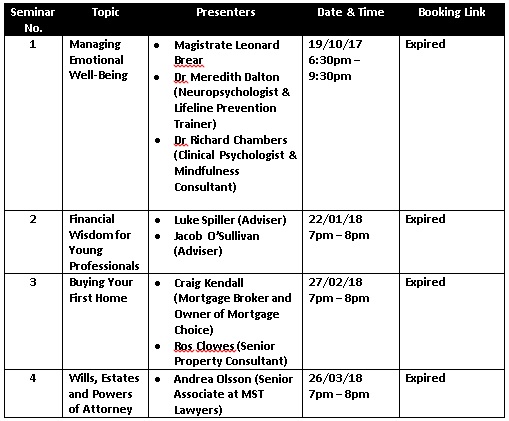 Event Flyers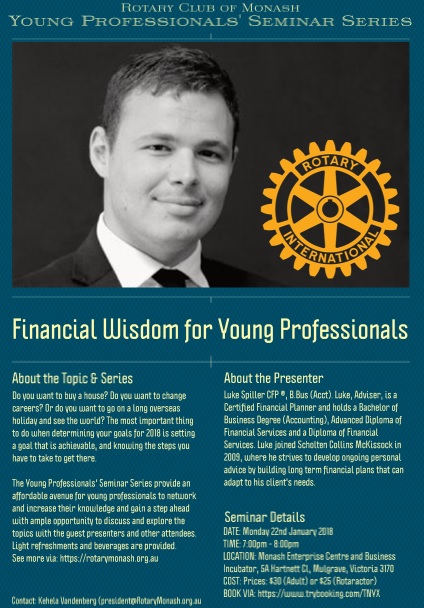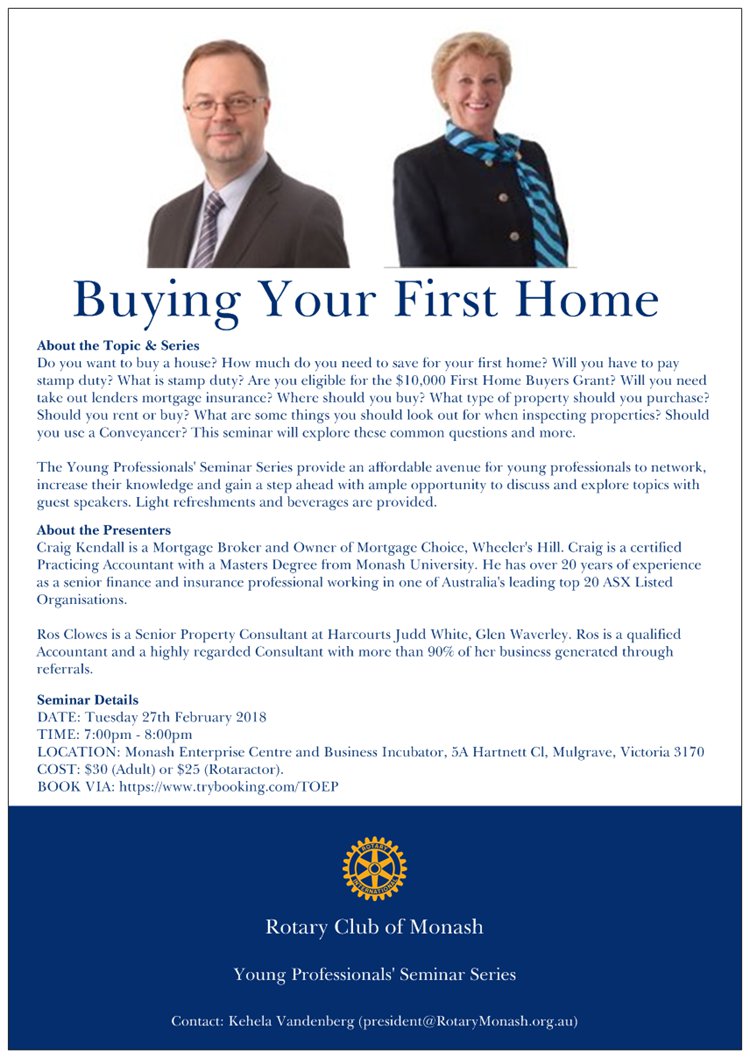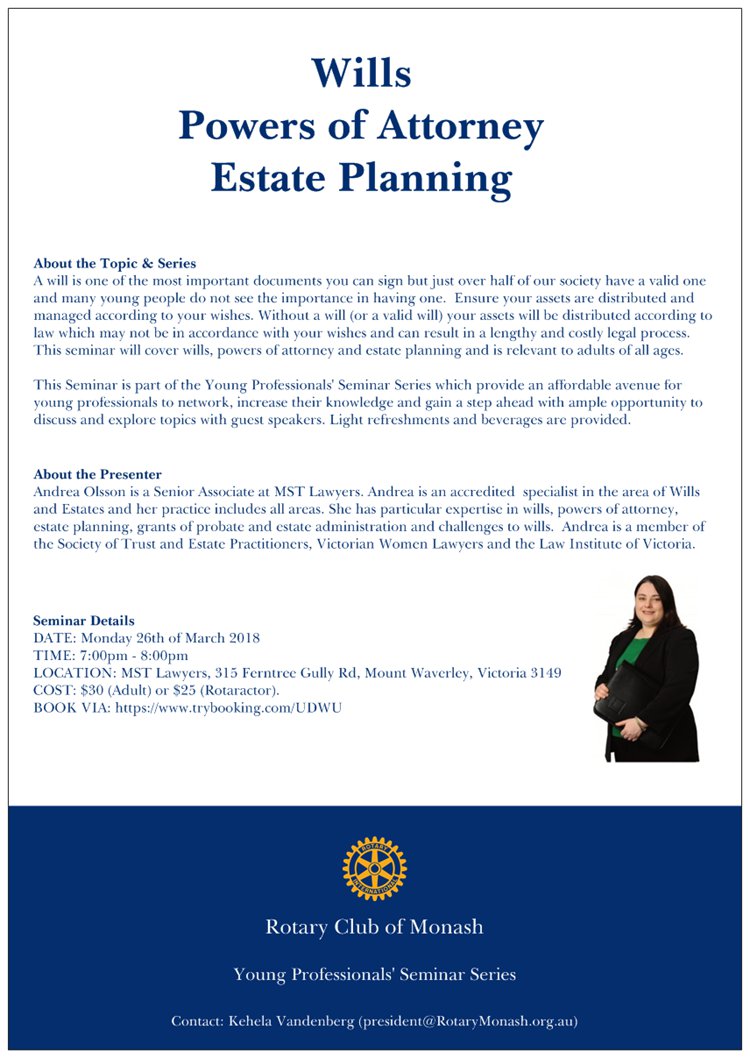 Community Support
A portion of each attendees fee goes towards sponsoring 14-30 year olds in the City of Monash to undertake educational and professional and personal development opportunities including:
Model United Nations Assembly (MUNA)

Teams of students represent a nominated country at an assembly modelled on the format and function of the United Nations
Young people are encouraged to learn about other nations and to understand and appreciate the workings of the United Nations while they develop debating skills and gain self confidence in public speaking.

National Youth Science Forum (NYSF)

This Forum is held over a two week period in Canberra during January and provides Year 11 students with the opportunity to test-drive careers in science, engineering and related disciplines.
NYSF is designed to engender a greater knowledge and passion for sciences as well as improving each student's personal development, their perception, communication and organisational skills and provides valuable contacts, friendships and mentors.

The Rotary Youth Program of Enrichment (RYPEN)

A week long conference for young people who are between 14 and 17 AND are year 9, 10 and 11 students.
Attendees develop skills in: Resilience, Teamwork, Trust, Goal Setting, Forming and defining their own values, Leadership fundamentals and ethics, Taking initiative, Communication skills, Problem solving and conflict management and Community and Global Citizenship

Rotary Youth Leadership Award (RYLA)

A unique week-long residential seminar, run by youth for youth aged 18 – 30, focusing on stimulating, challenging, educating, enhancing and empowering participants in the areas of leadership, personal and professional development and service to the community.
Share this with your friends